About EdOpportunities
Thanks for visiting the EdOpportunities Database. This is a project of STEM Library Lab, a New Orleans based nonprofit focusing on connecting teachers and schools with access to the incredible array of resources provided by local nonprofits, businesses, museums, hospitals, universities, trade organizations, and more.
Our goal is to ensure educational equity, and that these amazing resources, which often find their way into only the best resourced schools and communities, are available to everyone across all schools and communities.
The EdOpportunities Database is...
Constantly growing and changing to meet the needs of the communities we serve. We're seeking financial support as well as advisory support to ensure we grow purposefully. To get involved with this initiative, reach out to Todd at twackerman@stemlibrarylab.org.
For assistance posting your Opportunities to the site, or with finding Opportunities that are right for you, visit the Support page.
Robin Martin
Marketing & Education Opportunities Manager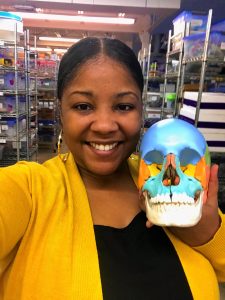 Robin, like most New Orleanians, comes from a musical family: her great-grandfather Kid Thomas Valentine of Preservation Hall, her father, Rogers Martin, who has played drums in most of the clubs in New Orleans and her uncle, Wilson "Willie Tee" Turbinton of The Wild Magnolias and Willie Tee & the Gators. She is a graduate of McDonogh 35, where she learned to play saxophone, bass clarinet, and trombone. She then took her talents to Virginia, where she marched for the Norfolk State University Spartan Legion on full music & academic scholarships, graduating with honors.
After working for President Barack Obama's 2012 campaign in North Carolina, Robin decided to take the community/ grassroots organizing skills she learned there and help her city's severely neglected school band programs. She helped co-found the New Orleans Legacy Association of Bands, where she served as president from 2013-2019. She has also worked as Program Coordinator for House of Blues Music Forward Foundation, partnering with local school and community organizations to help young people explore careers in the music industry, both on stage & off. She has experience with social media management, including how to properly market brands using social media.
She is excited about becoming our Marketing Coordinator and looks forward to working and growing with STEM Library Lab!
Todd Wackerman
Executive Director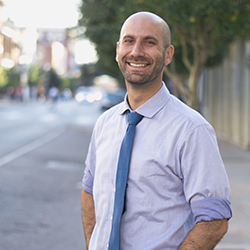 Todd Wackerman is the founder and director of STEM Library Lab, a local equipment share resource center in New Orleans. He taught Physics and a variety of other STEM subjects at public schools in New Orleans and Brooklyn from 2010-2016.
Todd received his MBA from Tulane's Freeman School of Business, an MAT in Science Education from the University of New Orleans, and his from BA from Boston College in Political Science and History. He feels most comfortable when surrounded by books or trees. He once finished 11th to last in the Boston Marathon. Prior to teaching, he worked as a program manager and project coordinator for corporate volunteerism at two nonprofits, and has extensive volunteer experience with local nonprofits including Crescent City Farmers' Market and Youth Run NOLA.
Todd has worked in various roles in schools and universities all across the country, including California, Massachusetts, Louisiana and New York. Building from those experiences, he is excited to be founding STEM Library Lab and helping teachers to improve the quality of their classroom experiences.